HDL Sales
This page last modified on Sunday 1 July 2012
Merchandise
Hastings Diesels has had its image and some wording placed on various household items as shown below; for some years these have been on sale during our railtours. We also stock some non-HDL items that have a railway theme.
All merchandise-prices include postage & packing, and VAT (please enquire for overseas destinations, and for more information on any item).
HDL-branded items
HDL shopping-bag: £5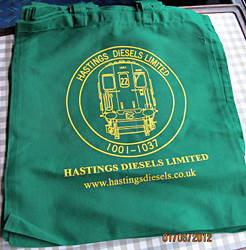 HDL mouse-mat: £5.50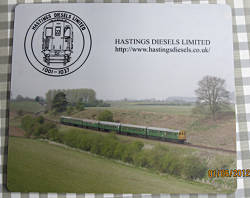 HDL credit-card holder: £3.50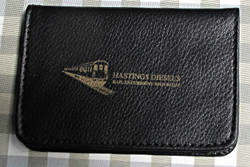 HDL book-mark: £2.20

HDL fridge-magnet: £2, or two for £2.50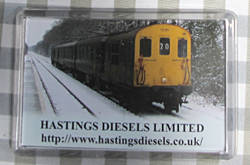 Other railway-related items
Notelets "The art of steam" (4 designs, 8 in pack, envelopes included): £4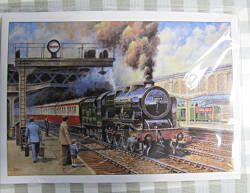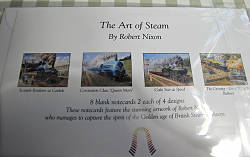 Post-cards (two sets of 4): £1.50 for 4, £2.50 for 8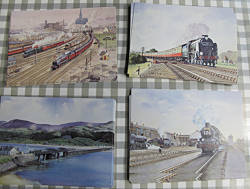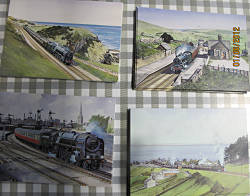 Holiday Haunts fridge-magnets (2 sets of 4): £1.50 for 4, £2.50 for 8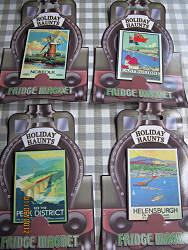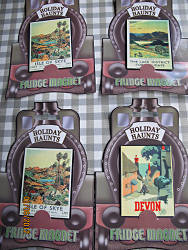 Rail enthusiast tea-towel: £5.50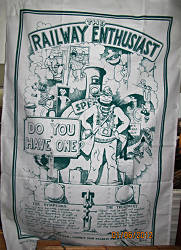 LMS tea-towel: £5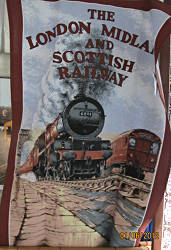 GWR tea-towel: £5.50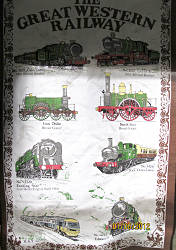 Metal wall-plaques 8x6, 3 designs (Bournville, LNER, Grandad): £5.50 each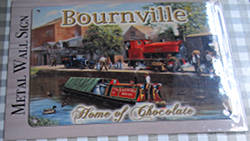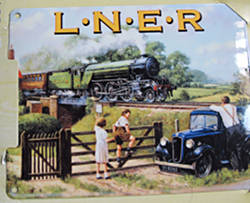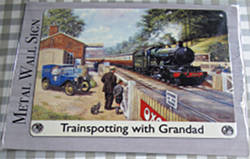 Videos
These titles produced by Online Video may be of interest to our members and supporters. They have been grouped according to whether or not they are specifically about DEMUs:
DEMU-specific:
Remember The Thumpers (77 mins) — This title has sold very well and even train drivers have asked for it. It tells the story of the development of the DEMUs right from the steam age, with lots of archive film including unit 1001 in green livery seen at Robertsbridge. The original narrow-bodied versions are featured sharing the single tracks through tunnels with the first of the 4-CEP electric trains soon to take over in 1984. A farewell tour is shown, which includes parts of London on LT metals. After withdrawal of the narrow-bodied sets they are used by LT for track-recording trains of sub-surface lines. Class 205s are seen in the last days of DEMUs at East Grinstead; they are shown operating the Swanage branch prior to closure in the 1970s. 1001 tours the Kent & East Sussex Railway in 1993. Then comes a comprehensive coverage of the last two lines using the units—the Uckfield, and the Ashford & Hastings on which unit 1001 continued to be used quite often right through to 2005. The video ends with coverage of HDL's Medway Cracker railtour to London and Sittingbourne in December 2003. (Also available on VHS)
The Green Goddess on tour (55 mins) — Portrays HDL's Lydd Ranger railtour which took place in March 2005. Using four cameramen, the film shows the interesting slow ride down the long-closed branch which is kept open only for a weekly nuclear-flask train. The tour ran all over Kent, pausing for lunch at Canterbury West, and continuing to Dover and returning via Ashford and Tonbridge to home base. The train consisted of three power cars, two narrow saloons and two wide-bodied saloons. This title also includes some rare footage from 1966, showing a 2-car DEMU at Ashford, Appledore, Lydd Town, Greatstone-on-sea and New Romney. (Also available on VHS)
Thumper Returns (44 mins) — Released on 4 January 2009, this title contains coverage of HDL's Pre-Christmas 2008 Folkestone railtour as well as library footage, the fitting of Central Door Locking, and shots from test runs and the staff charter to Bournemouth earlier in 2008.
Not DEMU-specific:
Hastings Trolleybuses (86 mins) — Besides featuring these quiet, efficient vehicles, this title has a wealth of other transport interests: Clift Lifts, Steam trains, Mini-trams at Eastbourne, the Electric hospital line at Hellingly, and the steam loco at the gas works. And, best of all, the last day of service at Bexhill West (featuring DEMUs). (Also available on VHS)
Steam in Kent (67 mins) — This title includes Steam Festivals at Maidstone, with shuttle trains to Tonbridge in 1999 (Class 4 tank) and 2000 (Bodmin West Country class 4-6-2). Bodmin on the Cathedrals Express main-line steam excursion at various locations including Canterbury, Dover and Tonbridge. Also featured is archive film from 1927 onwards depicting Maidstone West, Gravesend West and the Hawkhurst branch; scenes of industrial workings at Sittingbourne and Aylesford paper mills, and Betteshanger and Snowdown collieries. Re-live the great days of Steam in Kent!
London's Lost Diesels (71 mins) — features LMS 10000, 37s, 20s, 31s, Warships, Hymeks and 52s, cab ride inthe prototypeDeltic, and views of the last scheduled Deltic trip from Kings Cross. And, for Southern fans, 33s and 73s with a study of the Dover TPO. (Supplies are limited)
London's Lost Steam Trains (59 mins) — Starting with scenes from the 1930s: Paddington, King's Cross, Liverpool Street,New Barnet open-day. Harrow in 1927 (pre Virgin Trains!!). See Claugtons, Super Ds, and Precursors, also from later years Southern Schools and Brighton Atlantics with the "Modern" Era represented by Bulleid pacifics and standard tanks. Something of interest for everyone. (Supplies are limited)
London's Lost Stations (57 mins) — Highlights include: Steam trains at Farringdon and Moorgate; N2s at King's Cross and Fenchurch Street; Electrics on SR Woodside to Sanderstead and Crystal Palace branches; London Underground Aldwych Branch including cab-rides and the last night.
London's Lost Docks (55 mins) — An unusal subject depicting a lost age. Colour footage from the 1950s and 1960s; not just the passenger and cargo vessels of the time (Caledonia Star, Clan McIndoe, Orcades, etc.) but the tugs and dredgers that enabled the port to function. Also scenes from the PLA's own railway, plus paddle-steamers and excursion traffic.
Remembering London's Trams and Trolleybuses (60 mins) — The Last London Trams ended in 1952 and Trolleybuses in 1962; so, for the older generation a chance to remeber past glories, and for the younger ones a chance to see what you missed! With colour archive footage, come right up to date with shots of Trams in Croydon. (Supplies are limited)
Paddle-steamer Memories (90 mins) — Britain's much-loved paddle-steamers on rivers, lochs and coastal waters of Britain, including the Thames, Clyde, Bristol Channel, Loch Lomond, Forth and Tay. Some film over 100 years old!
No Trolleys To Aquarium (90 mins) — Brighton's Trams, Trolleybuses, Buses and Railways. See Brighton as it used to be! Last Trams, first Trolleybuses, The Brighton Belle in 1939; Volks Electric Railway.
These titles are available on DVD (and on VHS video-cassette only where marked as such)
Hastings Diesels is selling these titles by arrangement with Online Video, the price including a contribution towards HDL's restoration funds.
Each video or DVD is priced at £14.00 including postage & packing (please enquire for overseas destinations).
Ordering
On-line ordering is not available at present. To order merchandise or video/DVD titles, please write a letter to HDL's Sales department, stating:
Item(s) required
Format required (for VHS or DVD)
Quantity
Name, address, telephone/email
Please enclose payment by cheque, made payable to Hastings Diesels Limited, and then post your letter to:
HDL Sales
85 Crofton Park Road
LONDON
SE4 1AJ
If an email address is included in your order, we will send a confirmation/despatch message to it.