Carriage of folding bicycles on the Hastings DEMU
This page and contents last changed on Wednesday 26 April 2017
and are valid until further notice
Why can't I take my (full-size) bicycle on your train?
Our train has a guard's van at each end, in the motor coaches. At the Club Class end, the guard's van is entirely unavailable for operational use as it is occupied by the catering team and its equipment.
At the Standard Class end, the guard's van is nominally available for bulky luggage. Whilst bicycles have been conveyed there some years ago, it is commonplace now for users of wheelchairs and electric buggies to travel on our railtours, and we have an obligation to give precedence to these. At the same time, the Standard-Class-end guard's van is the workplace of the Guard who needs to be able to operate his train from it—so access into, through and across to both sides of the guard's van must be maintained at all times.
So what about folding bikes?
Space within the passenger areas on the Hastings DEMU for bulky items such as folding bikes is in short supply. The train was designed in an era when people were slightly smaller, and close-packed conditions were considered more acceptable.
Initially, we implemented a blanket ban on all bicycles, folding or otherwise, for the reason described above: there simply isn't guaranteed space for them in the guard's van. Additionally, we considered that there was no safe place within the passenger areas of the train for them either.
However, some lateral thinking by one of our shareholders has enabled us to revise our position.
Space for compact folding bikes (e.g. Brompton)
In the CEP coach (our non-Hastings vehicle normally marshalled next to the Buffet car) there is a limited amount of space for compact folding bicycles. Between the seat-backs there is designed-in luggage space which was intended for suitcases.
Current guidelines (dated April 2017)
You may bring a folding bicycle with you, so long as:
You receive permission from us beforehand, ideally when booking

Your folding bicycle meets the dimensional criteria below

It is stowed within one of the spaces described below, and secured against movement

You do not cause injury, delay or damage when doing so

You accept that your folding bicycle is left unattended in the CEP coach at your own risk.
Please be aware that HDL is unable to take responsibility for damage to or loss of folding bicycles even when conveyed in accordance with these guidelines.
Dimensional criteria and illustration
There are twelve similar spaces between the seat-backs in the CEP coach. All dimensions are in millimetres (mm).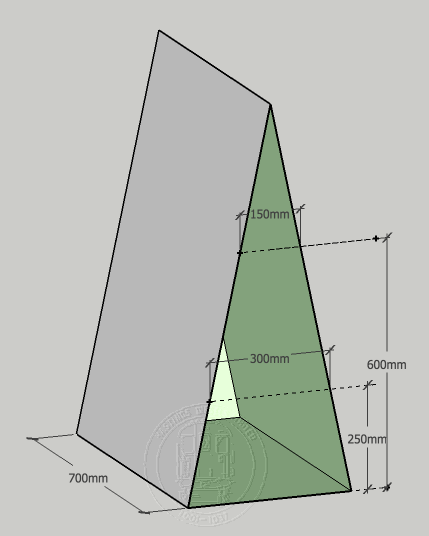 The space is 700 deep (from aisle towards bodyside of coach), and of triangular cross-section: at a height of 250 from the floor it is 300 wide, but at a height of 600 it is only 150 wide. See illustration: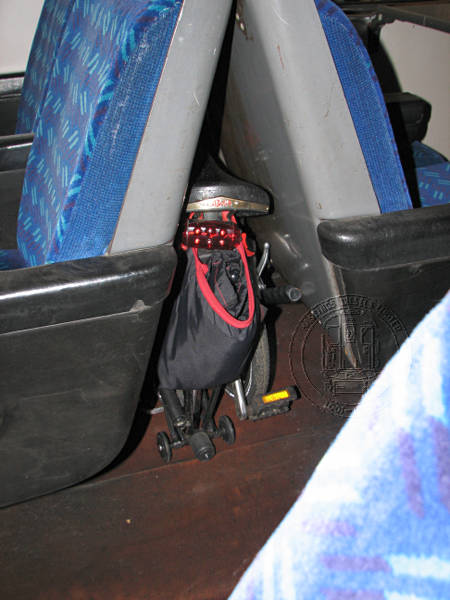 As may be seen above and below, a 1999 Brompton folding bicycle fits within the space. Although its dimensions are 650 long x 300 wide x 610 high, it is considerably narrower towards the top. It doesn't obstruct the aisle in any way, and with the seat-tube fully retracted its rubber stopper acts as a brake to prevent the folded machine rolling on its castors.