Coronavirus update, October 2020
This article was opened on 4 October 2020
2020 has proved to be a very challenging and frustrating year for us all. We had planned a programme of railtours for this year, and we were fortunate enough to be able to run the Faversham Hop in January, but we have had to cancel everything else in view of the coronavirus pandemic and the lockdown restrictions.
We are considering actively when and how we will be able to restart tour activities. At the risk of stating the obvious, we have particular challenges which need to be addressed. We have a mainly narrow-bodied train with seats which are closer together than on most other trains. We have only six coaches in the current train formation, giving us a maximum of 250 available seats. We have open carriages, rather than those with separate compartments. Some form of social distancing would be required for railtours which we would run in the near future, but this would inevitably mean limiting the number of seats which can be occupied. With a relatively short train, it would make it very difficult for us to cover our operating costs if, for example, we could only use half of the seats.
For these reasons, and with great reluctance, we decided even prior to recent increases in restrictions that it would not be feasible to restart conventional railtours during 2020.
Plans were being made for us to provide our train for the Olympia Express charter for the London International Horse Show in London this December, as in the ten previous years. However, on 14 September it was announced that the Show would not be taking place—and therefore neither would the charter of our train.
HDL has not been idle during the spring 2020 lockdown period nor subsequently. Maintenance work has continued on our operational train. In addition, motor coach 60019 and trailer coach 60528 are now fully restored and painted, and virtually ready for main line registration to enable us to use them. These two vehicles could if required be added to the train formation, which would give us an additional 90 seats. This could provide sufficient additional space to allow for the necessary social distancing, subject to whichever legal rules might be in force at the time. We are giving this very careful consideration at the moment, with a view to resuming our railtours programme from early next year if possible. Please bear with us at this difficult time, as our main priority has to be the safety of our customers and volunteer staff.
In recent months we have also made progress with other work. Trailer coach 60502, which was recently in "as withdrawn" condition, has been the subject of major work in order to bring it back into use. The coach has received substantial bodywork repairs, and attention is currently focused on the interior.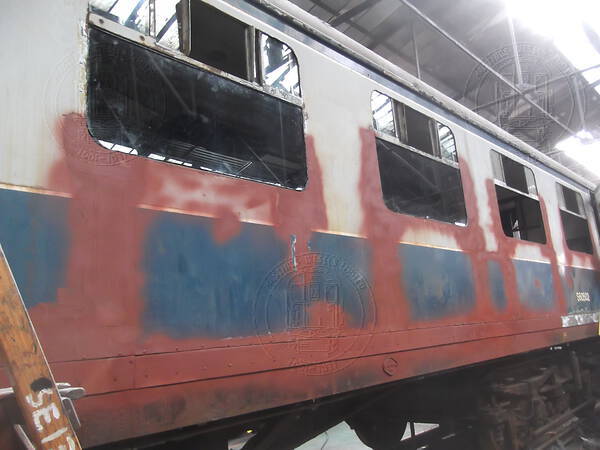 We are also proceeding with fitting retention toilets to our vehicles. From 2023, Network Rail will not allow main-line use of trains which have conventional track-discharge toilets. We are working closely with NR's approved contractors and with our operating company, GB Railfreight, to address the design, manufacture and fitting of retention toilets so that we can meet this deadline. This is not a straightforward task, but the process is well under way.
Thank you to all of our shareholders and supporters for your patience! We look forward to seeing you all again soon, and hope you are all staying safe and well in the meantime. Our current plan—subject as ever to the course of the pandemic—is to re-run in 2021 the programme of tours which we had already planned for 2020, using similar dates. As soon as we have them, we will publish further details on this website.
Hastings Diesels Ltd
October 2020