Test run to Tonbridge
Thursday 27 June 2013
This article was opened on Monday 1 July 2013, and
last modified on Tuesday 2 July 2013.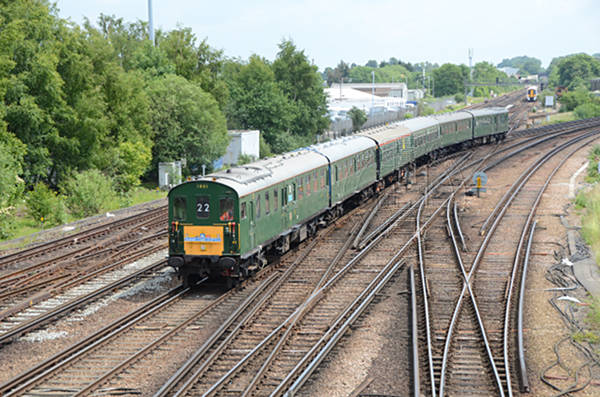 As our train had not moved beyond the confines of St. Leonards Depot since December 2012 (see the DEMU diary for details), and with our upcoming Weymouth Envoy railtour drawing near, a test run was arranged for the current 6-coach formation of 1001 (60118-60501-69337-70262-60529-60116).
Departing the depot at 1150, it worked to Hastings station to reverse, and then up to Tonbridge West Yard where it laid over until 1350 for its return to the depot via the same route.
The cab-cam video and those photos not otherwise credited on this page were all taken by Andy Armitage, who rode with the train to provide technical support coverage; the test concluded with no issues encountered.
Cab video footage
The following video footage filmed from the cab is available on YouTube:
Tonbridge Yard to Hastings 5Y67
Photos