Saturday 24 November 2012
This article was last modified on Wednesday 2 January 2013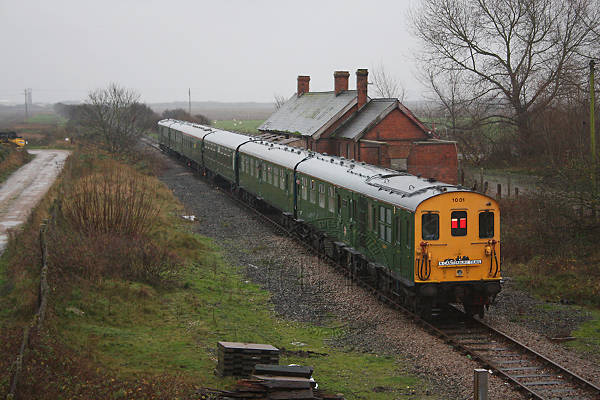 Hastings Diesels Limited's 56th public railtour was from Hastings to Kent, running round the majority of main lines in the county plus the Dungeness branch.
This pre-Christmas outing had to be brought further forward from that festival than we would have wished, because of engineering works affecting our intended routes. It was completely sold out, and called at our usual stations from Hastings to Bromley South; then unusually we ran to London Blackfriars for our central-London pickup. Our tour of Kent followed (see the map that Andy Armitage provided), with stops at Rochester, Sheerness-on-Sea and Canterbury East, before a trip via Dover Priory and the Shakespeare Cliff tunnels (our inward-opening Guard's doors satisfied contingency access-arrangements) to Ashford International. A visit to the Dungeness branch was followed by a trip via Canterbury West to Ramsgate, Faversham, Rochester and back the way we'd come to London Blackfriars and Hastings.
In spite of appalling weather conditions through much of the day, we made good time: difficult railhead conditions delayed a train in front of us in the Lewisham area but we regained the lost time by Rochester, only to slip to a stand on the first attempt to depart via the little-used connection at the country end of the no.4 platform! When this was overcome, we visited Sheerness in pouring rain and took the descent to Dover with the caution that it required on such a day.
Returning from Dungeness, we crested the treacherous Ham Street bank at 40mph; a minor delay and the loss of our path after filling our toilet water-tanks at Ramsgate became a 10-minutes-late departure, whose lateness grew to 15 at one point before being fully absorbed by recovery-time and a pathing stop at Faversham—through which we instead roared with 1000 horsepower of English Electric music accelerating us through the gloom! After Rochester, our assault of Sole Street bank was conducted at a respectable 39mph. On the homeward stretch from Blackfriars we made excellent time and were routed past stopping trains at Kent House and at Orpington—the latter at 70mph with a long blast on the whistle! Tonbridge was reached 15 minutes early, and even with a wait outside Hastings we were still 5 minutes early arriving at our final destination.
The many kind comments we have received indicate that a good day out was enjoyed by all.
Historical data
The train was formed thus: 60118-60501-69337-70262-60529-60116, with motor coach 60116 Mountfield leading on departure from Hastings. As the train visited Sheerness once, it became "turned" during the course of the day's outing.
The publicity leaflet, timings and map of the railtour route remain available.
Cab video footage
Video footage from an unattended forward-facing camera mounted in the cab has been made available via the links below. Further investment in anti-vibration equipment has resulted in eminently more watchable video images. The video material at these links is © Copyright 2012 Andy Armitage.
Videos
Various photographers have taken video-footage depicting this railtour and have uploaded it to YouTube; the following are links to some starting-points but do not represent a definitive collection:
Photos
Further photos
BloodAndCustard has a great photographic report of the day's outing: a visit is highly recommended!

The Wanderer's Photos — a fantastic collection of photos accurately capturing many aspects of the day's outing on board our train, by Neil Dinnen.

Finbarr O'Neill's photos from the railtour, and the associated journey back from Hastings the following morning (with ironically beautiful weather!)