Saturday 7 July 2012
This article was last modified on Wednesday 18 July 2012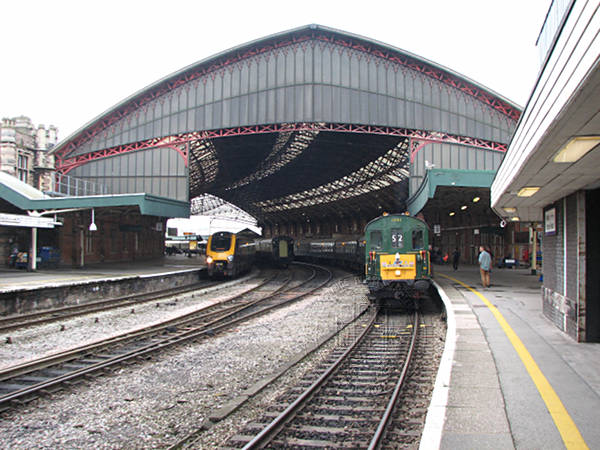 Hastings Diesels Limited's 54th public railtour was from Hastings to Bath, Bristol and Weston-super-Mare.
This outing called at our usual stations from Hastings to Bromley South, then Clapham Junction, and following the L&SWR route via Ascot to our final pick-up point at Reading station. Thereafter we were on the Great Western Main Line from Reading via Swindon to our desintations of Bath Spa, Bristol Temple Meads, and onward on the former GWR system to Weston-super-Mare. Return was by the same route.
The trip ran almost exactly to time throughout; often we gained a few minutes, only to lose them when being held to time at various points. We lost just a few minutes at Bristol on the outward journey as a planned crew-change was nearly scuppered by flooding in the Romsey area; Weston-super-Mare was reached about a quarter-hour late. Arrival back at Hastings was one minute early, and 8 minutes early into St. Leonards depot.
Historical data
The train was formed thus: 60118-60501-69337-70262-60529-60116, with motor coach 60116 Mountfield leading on departure from Hastings.
The publicity leaflet, timings and map of the railtour route remain available.
Cab video footage
Video footage from a forward-facing camera mounted in the cab has been made available via the links below. Further investment in anti-vibration equipment has resulted in eminently more watchable video images. The video material at these links is © Copyright 2012 Andy Armitage.
Videos
Various photographers have taken video-footage depicting this railtour and have uploaded it to YouTube; the following are links to some starting-points but do not represent a definitive collection:
Photos
See also a set of photographs at www.bloodandcustard.org.