Buckeye Lower Shelf Brackets
This article was opened on 7 June 2012, and
last modified on 29 June 2012;
External links fixed on 30 May 2016.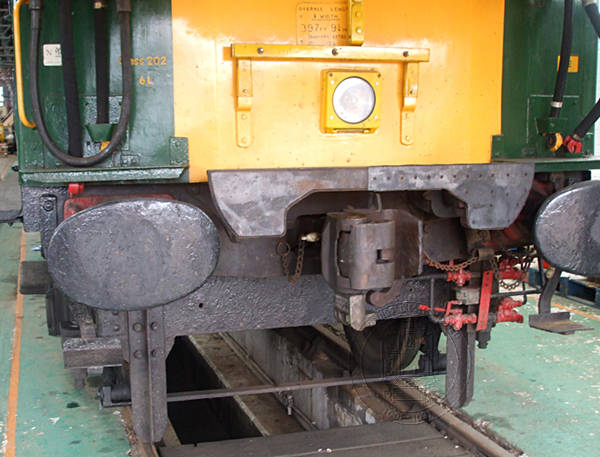 In order to continue operating our preserved train on the Main Line railway network beyond March 2013, our exemption from Regulation 4 of the Railway Safety Regulations 1999, which prohibited the use of Mark I rolling-stock, required renewal: this has now been issued. One condition of this was that we fitted Lower Shelf Brackets to the buckeye couplers, both at the outer ends of our train and at the couplings between vehicles.
All the active vehicles in our fleet have been so fitted.
The Buckeye Lower Shelf Bracket is an additional piece of metal fitted to the lower edge of an existing buckeye coupling; its purpose is to provide additional resistance to vertical disengagement (RSSB).
In other words, it is to prevent two coupled vehicles from becoming uncoupled as a result of the couplers moving vertically with respect to one another. Restraining the vehicles from vertical movement also reduces the risk of telescoping in a collision, by transferring forces to the structural frames of adjacent vehicles.
Photographs on this page are by Andy Armitage.