Saturday 31 March 2012
This article was opened on Monday 2 April 2012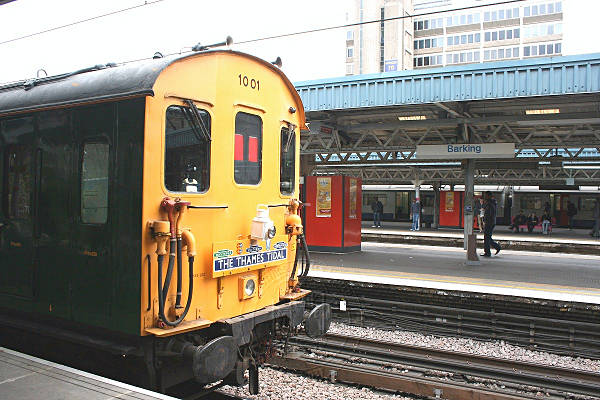 Hastings Diesels Limited's 52nd public railtour was from Hastings to London Fenchurch Street, Southend and Shoeburyness.
This outing operated via pickups at Bromley South and Clapham Junction, before negotiating the North London Line and the Gospel Oak to Barking route, reversing at Barking to serve London Fenchurch Street. From there it ran out via Tilbury to Southend and Shoeburyness. The return was via Laindon and Upminster, and did not serve Fenchurch Street.
Our train performed trouble-free. On the return leg of the trip, we were delayed in the Pitsea area because the line was closed at police request—the police helicopter had been deployed in the search for an armed suspect. We were 30 minutes down at one point, but thanks to some clear running and some scheduled recovery time we were back to 23 minutes down at Clapham Junction, 12 down at Bromley South, and on time thereafter. See also the timekeeping reports linked below.
Historical data
The train was formed thus: 60118-60501-69337-70262-60529-60116, with motor coach 60116 Mountfield leading on departure from Hastings.
The publicity leaflet, timings and map of the railtour route remain available.
Also available are the running & punctuality reports (from TRUST) for the outward and return journeys.
Cab video footage
Video footage from a forward-facing camera mounted in the cab has been made available via the links below. Despite further investment in equipment we still have some vibration problems, and are working to solve this issue. The video material at these links is © Copyright 2012 Andy Armitage.
Videos
Various photographers have taken video-footage depicting this railtour and have uploaded it to YouTube; the following are links to some starting-points but do not represent a definitive collection:
Photos
See also a set of photographs at www.bloodandcustard.org.