Saturday 3 December 2011
This article was last modified on Monday 12 December 2011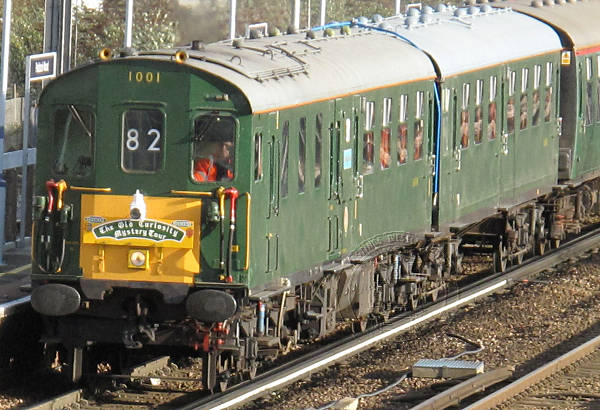 Hastings Diesels Limited's 51st public railtour was our pre-Christmas outing from Hastings to Rochester, featuring an afternoon "mystery tour" beyond.
This excursion ran via Bromley South to London Cannon Street, before heading to Rochester. Thereafter, the mystery element was scheduled to take us, via reversals at Strood and Paddock Wood, to Ashford and then across the Romney Marsh to Hastings (!), returning via Maidstone East and a reversal at Swanley to regain Rochester. The remainder of the trip would retrace its steps back to Hastings via Cannon Street.
In the event, we were diverted after Bromley South to avoid a signal failure in the Lewisham area; Cannon Street and Rochester were duly reached. However, motor coach 60116 Mountfield experienced a fault with its Automatic Warning System (AWS), a fail-safe piece of safety equipment used by most trains on the national rail network; thanks to prompt action by our operator, GB Railfreight, our reversal at Paddock Wood was re-located to Tonbridge Yard (with passengers temporarily detrained at Tonbridge station) where assistance was provided in the form of Electro-Diesel locomotive 73 213.
With the delay incurred by this point, it was not possible to follow our booked path over the route from Ashford to Hastings, which includes two single-line sections; instead, passengers were entrained at Tonbridge and the train was worked to Ashford to pick up its booked working on the return leg of the mystery portion of the outing, back to Rochester.
The rest of the outing proceeded uneventfully; Hastings was reached 20 minutes early and the Electro-Diesel was detatched and sent back "light engine" to Tonbridge.
Given the sense of mystery already being offered, many of those present noted that the short-notice changes of plan actually enhanced their enjoyment of the afternoon's travels!
Historical data
The train was formed thus: 60118-60501-69337-70262-60529-60116, with motor coach 60116 Mountfield leading on departure from Hastings. In the course of reversals at Strood, Tonbridge and at Swanley on a triangular route, the train was returned to St. Leonards depot facing the other way round.
The publicity leaflet, timings, Mystery timings, and map of the railtour route remain available.
Photos