Saturday 25 June 2011
This article was closed on Friday 8 July 2011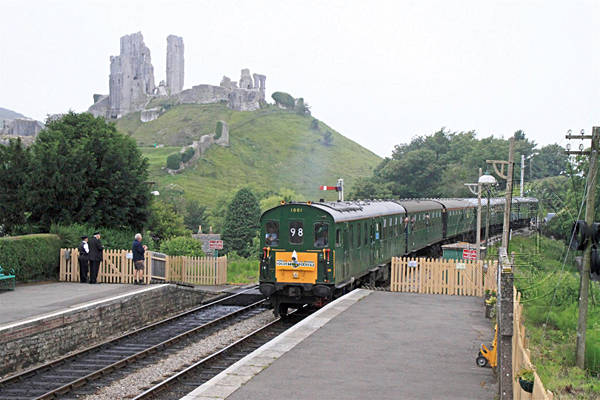 Hastings Diesels Limited's 49th public railtour was from Hastings via London Waterloo to Swanage, on the preserved Swanage Railway. It ran fast down the L&SWR main line all the way to Bournemouth and, turning left at Worgret Junction, to Corfe Castle and Swanage.
The trip was sold out, and ran almost exactly to time; Bournemouth was reached nearly 20 minutes early, and Swanage 6; and Hastings was regained 13 minutes ahead of time. The popularity of this outing has prompted us to examine the possibility of running it again at some point in the future.
Historical data
The train was formed thus: 60118-60501-69337-70262-60529-60116, with motor coach 60118 Tunbridge Wells leading on departure from Hastings. Because of damage to a set of points, the train was unable to use the Linford Street curve (built for the Eurostar services) on the immediate approach to London Waterloo, on our outward journey. We ran via a reversal at Latchmere No.2 Junction instead, so the train got turned round in the course of the day's operations.
The publicity leaflet, final timings, and map of the railtour route remain available.
Cab video footage
Video footage from a forward-facing camera mounted in the cab has been made available via the links below. Despite further investment in equipment we still have some vibration problems at some of the higher engine-speeds, and are working to solve this issue. The video material at these links is © Copyright Andy Armitage 2011.
Videos
Various photographers have taken video-footage depicting this railtour and have uploaded it to YouTube; the following are links to some starting-points but do not represent a definitive collection:
Photos