Saturday 19 February 2011
This article was closed on Tuesday 1 March 2011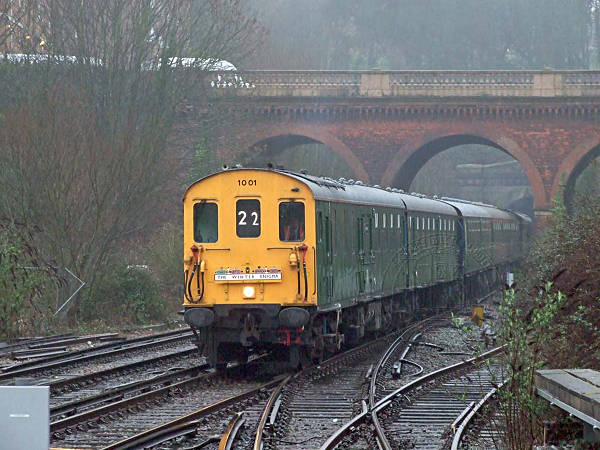 Hastings Diesels Limited's 46th public railtour was from Hastings to Bedford and Bletchley.
This was the second attempt at running this railtour, which was originally set to run on 4 December 2010 but was postponed because of severe weather. It was almost certainly the first occasion that a DEMU traversed the Bedford to Bletchley line.
The railtour collected its passengers from the usual stops between Hastings and Tonbridge, then Bromley South and Clapham Junction, and conveyed them to St. Albans City and Bedford, with a return trip up the Varsity Line to Bletchley; return was via the same route. For those not wishing to remain on the train to Bedford and Bletchley, a visit to the preserved St. Albans South signal box was also offered free of charge, in addition to the sightseeing and shopping opportunities available in that City.
The weather was not severe but neither was it kind to the trip, with rainfall for much of the day. In spite of this the train ran very close to time throughout the day; on the run up the Midland Main Line from Brent it was routed onto the Down Fast line to follow a High Speed Train as far as Radlett.
Historical data
The train was formed thus: 60118-60501-69337-70262-60529-60116, with motor coach 60118 Tunbridge Wells leading on departure from Hastings. It returned in the same orientation.
The publicity leaflet, final timings, and map of the railtour route remain available.
Videos
Various photographers have taken video-footage depicting this railtour and have uploaded it to YouTube; the following are links to some starting-points but do not represent a definitive collection:
Photos