Olympia Express special charter
Saturday 18 December 2010
This article was closed on 16 January 2011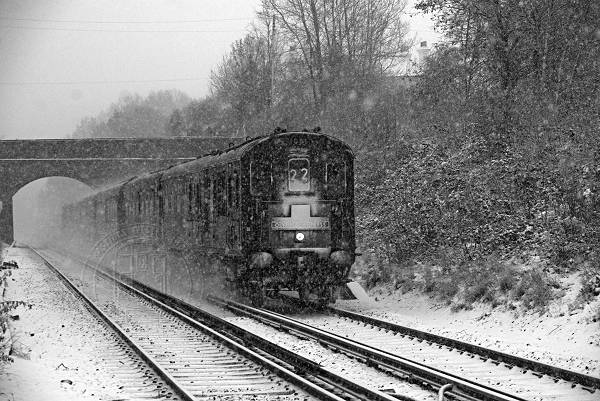 In a repeat of last year's outing, our train operated a special charter service from Hastings to Kensington Olympia and Shepherd's Bush, for the London International Horse Show and for Westfield London.
The train was formed thus: 60116-60529-70262-69337-60501-60118, with motor coach 60118 Tunbridge Wells leading on departure from Hastings. The publicity leaflet, fares & provisional timings, printable booking-form and final timings remain available for interest.
Because of significant snowfall both in fact and in forecasts during the days and hours preceding the outing, there was some apprehension on all sides as to whether it would in fact take place; we posted a note on this website the evening before the trip to confirm that, as far as we could determine, it was expected to run as scheduled.
And run it did! London was reached only a handful of minutes late, after being delayed outside Tonbridge, but then getting to motor through Sevenoaks and Orpington at maximum speed.
The train had been scheduled to have its layover during the middle of the day at Willesden, but in view of the rapidly-worsening weather there it was instead sent back south to Beckenham Junction station where it was stabled in a bay-platform road; afterwards it returned by way of the Mid-Kent line, Lewisham and Nunhead.
The return leg departed Shepherd's Bush close to time and was spot-on by the time it reached Orpington at 19:20hrs. However, at this point it became delayed behind other trains that were suffering with technical problems in the snow. Ten minutes later a "plan B" had been arranged: our train took on an additional trainload of "rescued" members of the general travelling public from the other train stuck at Orpington. We were sent back to Bromley South to reverse and try again, being re-routed via Bat & Ball whence we called additionally at Sevenoaks, Hildenborough and High Brooms; the catering-trolley still managed to get through the crowds, and the Buffet Car did a roaring trade! Thus we departed Robertsbridge at around 21:35hrs, and arrived into Hastings 84 minutes late. But no matter: not only had we got our own passengers to their destinations in spite of the line being blocked, we had assisted many others to reach theirs as well!
Photos and Videos