The Hastings Blue Belle charter
Saturday 6 November 2010
This article was closed on 12 January 2011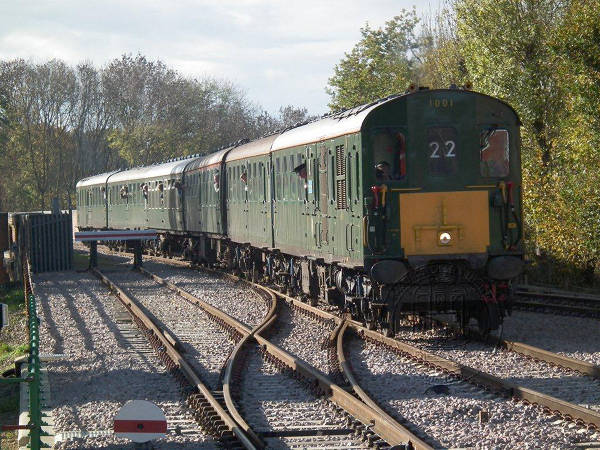 The Bluebell Railway chartered our train to run from Hastings via London to East Grinstead (Southern), and then via a link siding and onto the Bluebell Railway's own track and station at East Grinstead.
This section of railway is being re-opened yard by yard as the railway's cutting at Imberhorne is re-excavated, as it had been used for landfill after closure. The Bluebell Railway's website contains an illustrated account of this process.
The outing was scheduled to depart from Hastings at 0706hrs and call at Battle, Etchingham, Tunbridge Wells, Tonbridge, Orpington, then reversing in a bay platform at London Bridge to head non-stop via Forest Hill and Oxted to East Grinstead. Whilst there it was to run onto the Network Rail siding beyond the station, reverse off that onto the Bluebell metals along which it would visit the latter's station, Imberhorne Viaduct and the then limit of railway in the re-excavated portion of Imberhorne cutting. The return from East Grinstead (Network Rail) was booked for 1655hrs and via the same route, arriving in Hastings at 2040hrs.
The train was formed thus: 60116-60529-70262-69337-60501-60118, with motor coach 60118 Tunbridge Wells leading on departure from Hastings. The outward and return trips ran to time throughout, and whilst on the Bluebell Railway our train made 13 trips from East Grinstead station across Imberhorne Viaduct to the current end of the cutting, and back.
Video footage from a forward-facing camera mounted in the cab has been made available in a separate news-article
Photos