The Wandering Willow railtour
Saturday 30 October 2010
This article was closed on 9 January 2011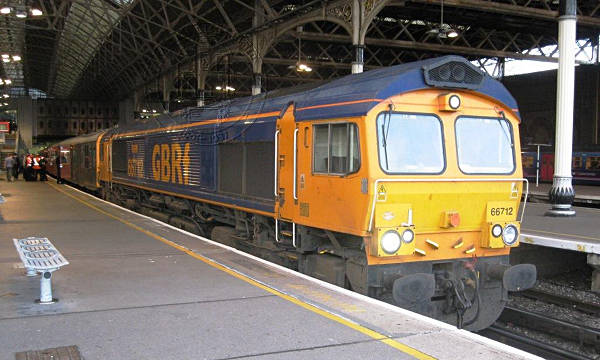 As was the case one year previously, our train was used by GB Railfreight for a charity railtour in the London & south-east area. This time the outing was called The Wandering Willow, in aid of The Willow Foundation.
The outing ran from Hastings to London Bridge and down to Bognor Regis, Littlehampton, Ardingly stone terminal, Newhaven Marine, Brighton, and returning to Hastings via London Bridge. Our train was set to be topped and tailed by Class 66 and 73 locomotives.
The train was formed thus: 66712 + 60116-60529-70262-69337-60501-60118 + 73141, with motor coach 60116 Mountfield leading on departure from Hastings with the Class 73 being dragged at the rear of the train; the Class 66 was collected at Tonbridge station, and it led to London Bridge on the outward leg of the trip.
On approach to Ford, the Electro-diesel Class 73 locomotive developed a fault with the control gear for its operation from the 750V DC third rail, and reverted to diesel power for the remainder of the trip to Bognor, and the departure from Littlehampton; the train was then specially reversed at Ford Junction to turn it round so that the Class 66 could lead onto the Brighton main line.
After the visit to the truncated Ardingly branch, 73141 was removed and left at Haywards Heath in the Down siding beside the tunnel-mouth, for collection later in the week. Our train worked under its own power when leading on the way down to Newhaven and up to London Bridge, as well as for the last stretch from Tonbridge back to Hastings—where the train arrived on time. Our DEMU became "turned" in the course of the day's activities.
Photos