Saturday 18 September 2010
This article was closed on Saturday 23 October 2010.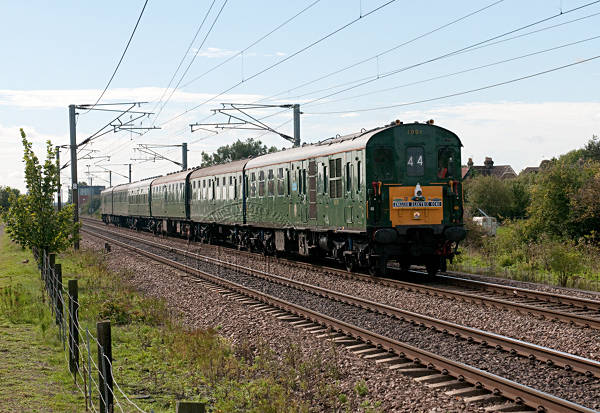 Hastings Diesels Limited's 45th public railtour was from Hastings to Skegness in Lincolnshire.
The tour picked up at stations from Hastings via Tonbridge, Bromley South, Kensington Olympia and Finsbury Park; it was routed up the East Coast Main Line as far as Peterborough, then via Spalding to Sleaford. The destinations offered were Boston (for Boston Stump), Wainfleet (home to the Batemans Brewery and its visitor's centre, and the seaside resort of Skegness. The return leg joined the East Coast Main Line at Grantham.
The train ran fault-free and largely to time; it was 10 minutes early at Boston on the outward leg, and at one point about 8 minutes down on the return leg after awaiting clear signals at a junction. The train's maximum speed of 75mph was attained and held for long periods on the East Coast, but as per GPS readings this was not exceeded.
Historical data
The train was formed thus: 60118-60501-69337-70262-60529-60116, with motor coach 60118 Tunbridge Wells leading on departure from Hastings. Because of a reversal at Sleaford on the outward journey but not on the return, the train was turned round in the course of the day's outing and returned south with 60118 still leading.
The publicity leaflet, final timings, and map of the railtour route which is optimised for printing on A4 paper, remain available.
Video footage from a forward-facing camera mounted in the cab has been made available in a separate news-article.
Photos