Motor coaches visit Hornsey depot
Wednesday 16 June 2010
This article was closed on Friday 9 July 2010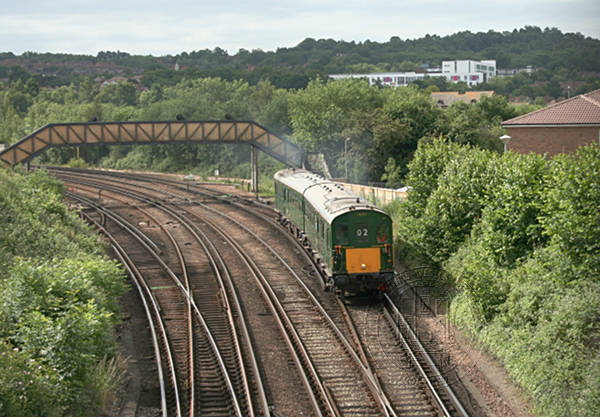 Motor coaches 60116+60118 travelled from St. Leonards to Hornsey Depot (via Bromley South and the North London Line) on Wednesday 16 June.
The purpose of this trip was to remove a fairly bad wheel-flat on one of 60116 Mountfield's wheelsets, this process requiring the use of a wheel-lathe.
As is noted on one of the videos below, the train does sound as if it has some wheel-flats on the return journey. This is because, with the time and resources available, the plan was only to use the under-floor wheel-lathe to "turn down" the worst-affected wheelset: 6mm was removed from its tyres, fully erasing the flatted portion. Some of the other wheelsets on these vehicles do have some minor flats, and this is what was heard as the train returned.
Videos
Some video-footage of the 2-car train's journey around the London area (though not of the wheel-lathe!) has appeared on YouTube, including the following:
Timings
The planned timings for the day's journeys were as follows:
5Z02
St Leonards 08:08
Hastings 08:19 - 08:20
Wadhurst 08/58
Tonbridge 09/23
Bickley Junction 09/50
Nunhead 10/05
Factory Junction 10/13
Kensington Olympia 10/21
Gospel Oak 10/48
Upper Holloway 10/52
Harringay 10/57
Hornsey 11:01 - 11:06
Hornsey Depot 11:17

5Z04
Hornsey Depot 14:41
Hornsey 14:52 - 14:56
Harringay 15/00
Upper Holloway 15/22
Gospel Oak 15/26
Kensington Olympia 15/59
Factory Junction 16/09
Nunhead 16/19
Bickley Junction 16/29
Tonbridge 16/59
Wadhurst 17/24
Hastings 18:02 - 18:06
St Leonards 18:12
Photos
These photographs, taken during the day's activities, have been provided for the HDL website courtesy of Chris Birks.