Some of our non mainline-certified "Hastings" vehicles
This article was written and closed on Monday 22 February 2010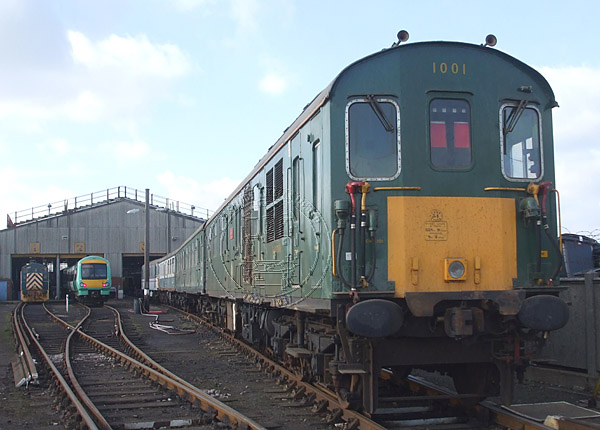 We currently have four original "Hastings" DEMU vehicles that are fully restored and certified for main line running.
We also have eleven others which are in various states of readiness; this article briefly describes three of them.
Motor coach
60000
Hastings
This motor coach, as illustrated above, formed part of the 3-coach train hired by the Kent & East Sussex Railway during 1993-1995 (see History page), and was returned to the main line on our Hastings DEMU Phoenix railtour in 1996; it operated every subsequent main-line railtour for the next decade, as well as our hires to various TOCs. When our train was stopped for the fitting of Central Door Locking (CDL) & On-Train Monitoring Recorders (OTMR) in 2005, this motor coach was not prioritised for this work and re-certification.
60000 Hastings had run in preservation continuously since 1993 (even 60118 Tunbridge Wells had time for further restoration work after returning from the Swanage Railway in 1993), and by 2006 it was due for a bodywork overhaul, some re-wiring work, and then the fitting of CDL & OTMR.
Because of the costs involved, both financial and manpower, this work has not been carried out yet. It is considered that less work will be required to complete the restoration of motor coach 60019; naturally we should like to have a third motor coach available sooner rather than later to provide backup for the two already in main-line use—although fleet reliability has not been a concern to date.
Trailer 60527
Trailer 60527 was restored to a standard appropriate for use on the preserved railway at Swanage Railway between 1990 and 1993. It has lain dormant at St. Leonards depot since then, as restoration of other trailers had begun with a view to increasing the capacity of our train.
Motor coach 60001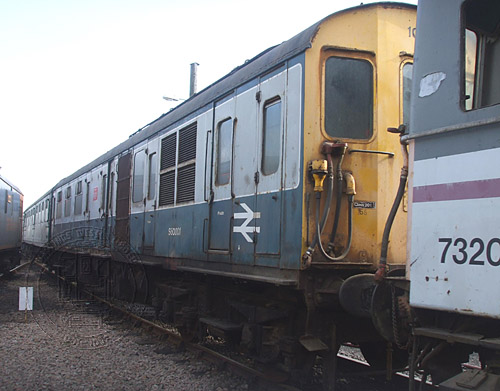 Motor coach 60001 is the only one of our five motor coaches in "as-withdrawn" condition, it having received minimal attention since withdrawal in the mid-late 1980s. Any serious work on this vehicle would be expected to come only after 60019 is completed, and 60000 is returned to front-line service.