Saturday 4 July 2009
This article was closed on Sunday 9 August 2009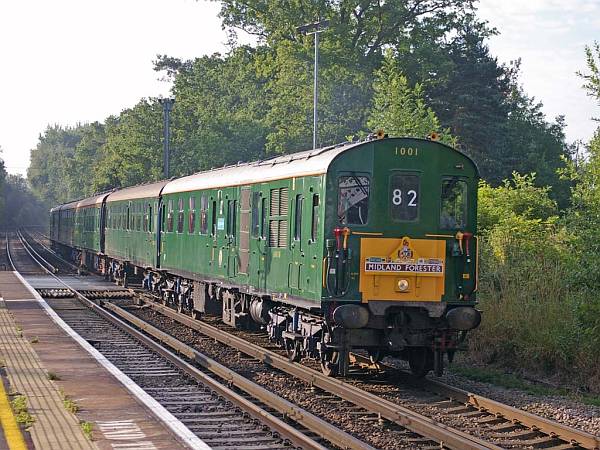 Hastings Diesels Limited's 39th railtour was to Nottingham via Loughborough. The outing arrived 4 minutes early and returned to Hastings 31 minutes ahead of schedule, in spite of some lateness incurred during each leg.
Unusual route
Owing to an engineering blockade on the Dudding Hill Junction section of line in north-west London, the outward leg of the trip had to negotiate a highly circuitous route in order to get from Bromley South to the Midland Main Line. From Kensington Olympia it followed the North London Line to Temple Mills, then the Barking – Gospel Oak line, taking the Tottenham North Curve onto the Midland Main Line near Kentish Town. Thus it ran through West Hampstead (North London Line) some 90 minutes before passing West Hampstead (Midland)!
The outing ran to time initially, but after some delays in north-east London it was routed via the Fast lines on the Midland and regained time. It crossed back to the Slow lines in time to traverse the Wymington Deviation and passed through Sharnbrook Tunnel, to the satisfaction of those on board who seek to travel over tracks not normally used by passenger trains.
Further to that theme, regular travellers may recall that in September 1997 our Rutland DEMU railtour traversed the then-freight-only section of railway between Corby and Manton Junction, crossing the ¾-mile-long Harringworth or Welland Viaduct. This outing saw our train passing over it once more.
The railtour reached Loughborough where over half of our passengers alighted, many to visit the nearby Great Central Railway. This also gave rise to an opportunity for the Selective Door Release facility to be used on our train's Central Door Locking, as the platform we stopped alongside was only 58 metres in length.
The return leg of the day's outing was via the East Coast Main Line between Peterborough and Copenhagen Tunnel, where it rejoined the North London Line at Camden Road Junction and retraced the outward route via the North London Line and Kensington Olympia.
Further data
The train was formed thus: 60118-60501-69337-60529-60116, with motor coach 60118 Tunbridge Wells leading from Hastings to Nottingham.
The publicity leaflet and final timings remain available.
Videos
We have encountered some video footage of our railtour posted on YouTube, at:
No doubt more videos will have been uploaded since this list was last modified, but the above is a starting-point.
Photographs