Hampshire Driving Trailer 60820 leaves St. Leonards
This article was written and closed on Tuesday 30 October 2007.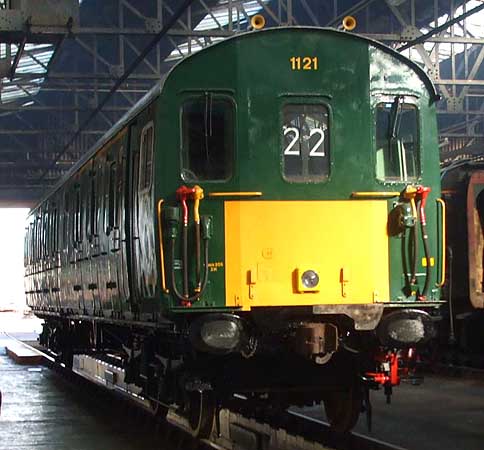 A brief history
"Hampshire" Driving Trailer no. 60820 was built in 1958 as part of 2H unit no. 1121; it worked its early years on the steeply-graded Mid-Hants Railway.
In 1979 the 2-car unit became a 3-car with the addition of a centre trailer car, being reformed as 3H 1108 (later 205 008).
By the time of its withdrawal in 1993, unit 1108 was sporting Network SouthEast livery. The unit's Driving Trailer 60820 was acquired by Hastings Diesels.
In early 1994, we carried out a full restoration on the vehicle, including corrosion-mitigation works, a full repaint into SR Green, and re-upholstery of the seat-cushions. 60820 was brought by rail to the Exeter Rail Fair on 1-2 May 1994, where it was the only passenger-carrying vehicle on show; it was exhibited alongside green-liveried Electro-Diesel loco 73 003 Sir Herbert Walker.
On 12 May 1995, it was coupled to motor coach 60018 and the pair were driven to Tunbridge Wells station, on the occasion of 60018's naming-ceremony (as "Tunbridge Wells"!).
Since then, 60820 has been stored ready for action, but none has arisen; HDL's Mark I rolling-stock-ban exemption did not include this vehicle, and even had it done so we would not have been able to run it with passengers on board unless it were not acting as a driving trailer.
October 2007
To free up some further space within our busy depot at St. Leonards, and to give 60820 the chance to be appreciated at last, arrangements were put in hand and the vehicle was moved by road on 18 October 2007 to Isfield, on the Lavender Line.