Motor coach
60116

Mountfield

back on the main line!

This article originates from the period October 2002 to 22 March 2003.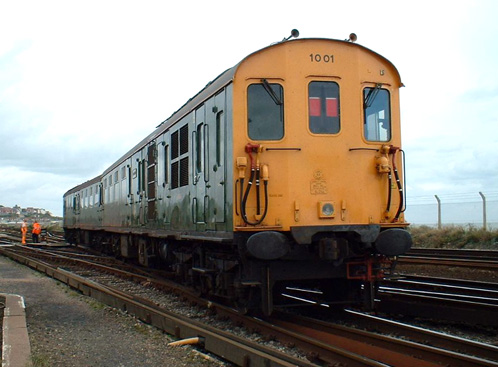 Background
Our third power car, 60016, was named Mountfield in the early years of HDL and, following general overhaul and painting in green livery, was used on two preserved lines in the south: the Kent & East Sussex Railway, and the Swanage Railway in Dorset. On return from these it lay dormant for several years, with attention focussed on our major projects of unit 1001 and the BIG buffet car.
Having since then been fully rebuilt, overhauled and restored, Mountfield had its engine recommissioned, tuned and load-tested in-house at St. Leonards. Its wheels were taken to Eastleigh for overhaul, receiving new bearings and tyres; DRA was also fitted. The vehicle has emerged from the workshop with a different appearance to the existing pair of motor coaches, sporting Southern Region green bodysides (like the others) but a full yellow front. This livery variant was only seen on a few units (notably 1037) and then only for a short period of time; full yellow cab ends were introduced in early 1967 and the Inter-City blue-and-grey livery was applied to most main-line stock between then and 1971.
During Spring 2002 each end was lifted onto its own reconditioned bogies with new wheelsets. In August the final touches included the application of the lion-and-wheel crests to the bodysides and the fitting of new curtains in the saloon.
Certification
At 1500 on Friday 18 October 2002, HDL received the paperwork declaring that Mountfield could at last begin its main-line preservation career! This was the culmination of thousands of hours of overhaul and restoration work by staff at St. Leonards depot, plus paperwork carried out with the help of our colleagues at Engineering Link (the certification body) and at the Railtrack Acceptance Board.
Mountfield has also been renumbered as 60116, because to Railtrack's computers 60016 is a Class 60 locomotive; the same process was applied to motor coach 60118 Tunbridge Wells upon certification in 1996.
Return to traffic
Mountfield's second career duly began with a test run from Hastings to Eastbourne and back in the afternoon of Sunday 17 November 2002, in which it was inserted into unit 1001 which ran as a 7-car train. No problems were encountered and Mountfield operated correctly.
This was followed by its return to passenger use on the main line, in our festive Cambridge Cracker railtour on Saturday 7 December 2002, in which she performed faultlessly; the extra power-to-weight ratio ensured early running throughout the day.
During December 2002 and January 2003, TPWS was fitted; on Tuesday 28 January 2003 Mountfield became the first DEMU vehicle to operate with TPWS when it went on a test run. It went on to carry out duties in the Railtrack de-icing train, before carrying its first fare-paying members of the public since preservation, between Ashford and Hastings on Tuesday 11 March 2003.