About Hastings Diesels Limited
This page was last modified on 31 October 2020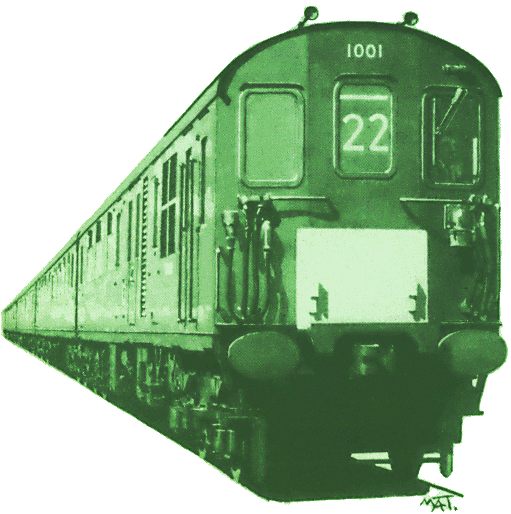 Overview of HDL
Hastings Diesels Limited (HDL) is a private company (number 02139203) with shareholders, which is run on a not-for-profit basis. Our objective is the main-line preservation and restoration of ex-Southern Region DEMU rolling stock.
We have run around 80 public outings on the national railway network with our preserved train, which has had an extraordinary second career, racking up over half a million miles.
Our Hastings DEMU is one of a class of diesel-electric trains built during 1957 and 1958 to replace steam-hauled stock operating between London and Hastings via Tunbridge Wells.
The six-coach units, incorporating diesel generators at each end, were unique in having specially narrow bodies which enabled them to pass through the unusually narrow tunnels on the Hastings line.
When the line was electrified in 1986, these "Hastings" diesel units were withdrawn (and the tunnels single-tracked to solve the width problem).
Fifteen carriages were purchased by Hastings Diesels with a view to preservation and restoration; the history of HDL, and that of the Hastings line and of its diesel trains, is described in greater depth on our history page.
Shareholders
Those seeking to contribute financially to the efforts of HDL—besides supporting our railtours!—may wish to become shareholders by purchasing at least the minimum shareholding of £101; naturally, shareholders are invited to the AGM and can thus have their say in regard to decisions being made about the company's activities.
Shares are divided into two categories. The 'A' shares are the voting shares, valued at £1, of which each shareholder must hold exactly one. The 'B' shares are the asset shares, nominally valued at £100, of which one or more may be held.
Please get in touch to register your interest in becoming a shareholder; see also the FAQ item, What happens to my shareholding?.
Sister company SLREL
In 1990, the directors of HDL formed a parallel, but totally separate company, St. Leonards Railway Engineering Limited (SLREL). It holds the tenancy of St. Leonards West Marina Depot near Hastings, a facility which was purpose-built for the Hastings DEMU fleet in the late 1950s, and at which HDL's operation is based to this day.
HDL rents space in the depot from SLREL. Many of the activities taking place at St. Leonards depot, and much of the workload on the staff there, arises from SLREL's activities. These include the stabling & day-to-day maintenance of Southern's Class 171 DMUs; servicing of Class 66 diesel and Class 73 electro-diesel locomotives for GB Railfreight; and various other maintenance programmes, both for customers with rail vehicles and for the depot infrastructure itself.
Visits to St. Leonards Depot
Since 18 May 2003, St. Leonards Depot has been playing an increasingly active role as an operational railway depot. As it has thus become in effect a "main line" depot, with trains arriving and departing from/to the Network Rail network at all hours, we regret that visits are not possible: a combination of commercial sensitivity, staffing and insurance issues render them unworkable. We thank you in advance for your understanding.